A History of the Recorded Floods
1811 was the first recorded flood.
1861 – 1862: In the middle of a 40-year drought period, floods appropriately called "Noachian Deluge," devastated the west coast from Vancouver, British Columbia, south through Baja California.
1891: On July 2nd, Grocers of San Diego had a picnic near the river in Lakeside. They were overwhelmed, routed and soaked by the most sudden and persistent storm that ever hit the valley.
1908: August 9, a surprising downpour occurred that is still talked about by "old timers."
1916: January 13, Lakeside lost 21 houses besides barns, silos, water tanks and out-buildings. Railroad tracks from Santee to Lakeside were washed out, and the railroad and wagon road were gone from Lakeside to Foster. The Cuyamaca Flume lost about six miles of flume. Mr. Gay of the Lakeside Inn opened doors to homeless flood victims. The second storm hit January 26. The rainfall total from January 13 through January 27 was 16 inches; season total was 21.32 inches. The river bridges were lost.
no images were found
1921: Rainfall December 18 through December 27 totaled 11.42 inches; the season total was 13.78 inches.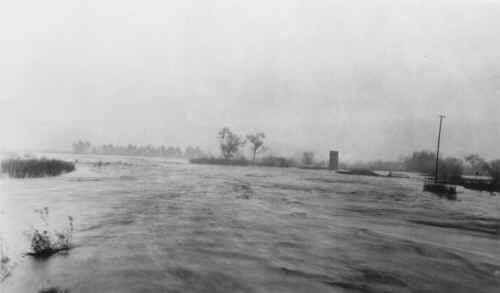 1927: The River bridge was washed-out in two places. Lakeside was left without water except for local wells. February 11 through February17 the rainfall total was 12 inches; the season total was 16.39 inches.
1941: March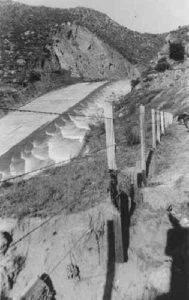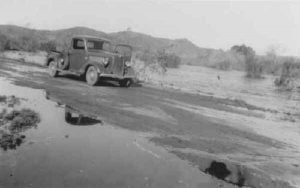 1961: August 4 a flashflood was caused by a cloudburst in nearby Flynn Springs. Two inches of rain was recorded in Johnstown in only a few minutes. Flooding and damage to more than 50 homes and stores along Los Coches and Quail Creeks was caused by obstructions in the natural drainage channels.
1978: The Los Coches Food Victims Association was formed due to the damage to their homes, plus other damage to Channel Road, Woodside Avenue, and the Riverford Road bridge.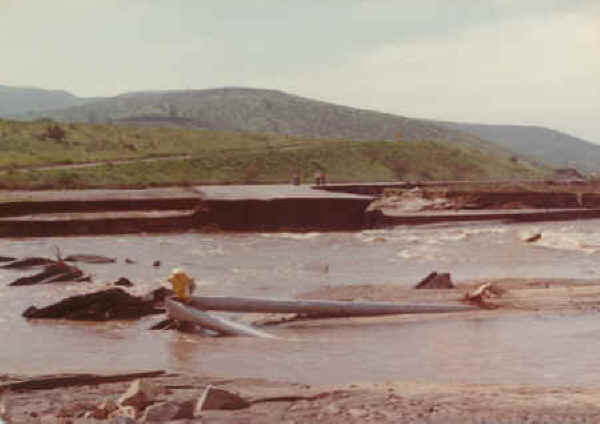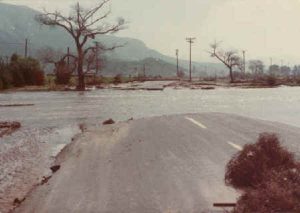 1979: Los Coches Creek floods again.
1980: Flooding again along Woodside Avenue, and Los Coches and Channel Roads. El Capitan Dam was on the verge of spilling (last in 1941). Residents below San Vicente Dam in Moreno Valley ready to evacuate. Supervisor Hedgecock dissenting on calling this a "state of emergency." Authorities size up the storm toll: 36 dead, $500 million in damages in Southern California.
no images were found
Related Images: