Introduction To The Lakeside Historical Society
In 1972, the Lakeside Historical Society was formed 90 years after the El Cajon Valley Land Company constructed our boathouse at Lindo Lake, the only natural fresh water lake in San Diego County, thus marking the beginning of our town.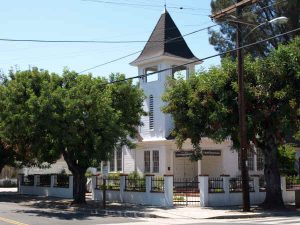 In those 90 years a lot of our history was not recorded, and was lost. The Society was formed with the express purpose of recording our passage through the years so that never again would a 90 year period contain so many blanks.
Today, the Society is not only dedicated to recording our history but to the preservation of our old buildings in Heritage Park, which we will strive to establish.
Many of us remember only as far back as our grandparents. The Society has pledged a better fate for Lakeside.
History of the Lakeside Historical Society 1972-1986
March 1972, Gene Claussen called a meeting at Lakeview Elementary School to form the Lakeside Historical Society of those who loved Lakeside and wished to preserve its history for succeeding generations.
Dr. Sam Sloan was elected president for 1972, and again in 1973. Paul F. Leone was elected in November 1993, but interest waned and for two years there was no activity.
Bill Davis then initiated the revival of the Historical Society, and was elected president for the year 1976. During his leadership, as a memorial to Otis Barker, a drinking fountain was built next to the Library and dedicated in October 1976. Money contributed from the US Bicentennial Committee was used for the project of moving the Boathouse from the shore into the lake. Also assistance from local businesses made this possible.
Mr. Davis resigned in August of 1977, and Ray Ceccotti, vice-president, succeeded him. Marguerite Sherman was elected in November 1977 as president. And the following year, on July 24, the Lakeside Historical Society was incorporated.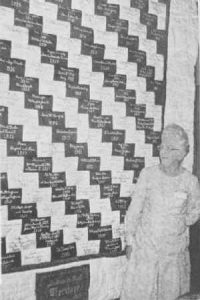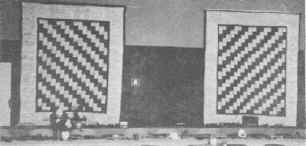 The first Hometown Reunion [now Heritage Day] was held in October of 1978 at the El Amigo Restaurant (formerly Bostonia Ballroom) in El Cajon, and was so successful it has become an annual affair. The next four years it was held at the VFW Hall in Lakeside. Increased attendance caused the group to seek larger quarters. From 1983 until 1986 the Reunion was held in the Social Hall of the Catholic Church on Lakeshore Drive.
A heritage quilt was completed with names of people and the date they came to Lakeside embroidered on red and white blocks. Rosa Ribley did the embroidering, Marguerite Sherman assembled them, and Judy Puhn Hooper drew pictures on the border and quilted the entire quilt.
Marcella Williams was elected president for 1980, and again in 1981. A second blue and white heritage quit was made by the same volunteers and exhibited at the 1981 Reunion. The Society helped in planning and supplying pictures for the mural at the Lakeside Middle School.
Ralph Anderson served as president for the year 1982, and Delores Meyer in 1983-84.
Two large sea containers were purchased, and with Al Meyer and Ralph Anderson heading the project, they were moved from Long Beach to Lindo Park, placed twelve feet apart and dedicated in May 1984. The next year, with many contributions of material and labor, the entire area was enclosed, roofed and a cement floor poured, giving us three display areas. We thank the industries and individuals who gave so much toward this effort. A picnic and dedication was held may 27, 1985. President Herb Mansfield was master of ceremonies.
During 1983, we helped plan and set up a pilot program to teach a unit on Lakeside history to the third grade at Lindo Park School with teacher Linda Halberg spearheading the assignment. This was expanded, and now the third grade curriculum in all Lakeside schools includes a unit of Lakeside history. Bill Davis has been our school coordinator (currently Olga Puhn [1986]), presenting a slide show at each school and conducting tours of some of the historic sites in the area. A "Junior Historian" membership club was initiated.
In 1986, Dolores Meyer was selected as chairman of the Lakeside Centennial Committee with Mary Allison as assistant. Monthly events led up to the grand Centennial Celebration on July 4th, 5th, and 6th in 1986. All Lakeside organizations were invited to participate.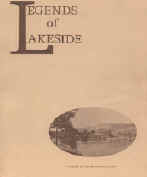 A dedicated committee worked diligently collecting, researching and compiling information for the book on Legends of Lakeside. But it is the individuals who have told, written, and shared their family backgrounds who have really made the greatest contribution to the book and our web site. They have lived the history of Lakeside — and we have tried to capture it for future generations.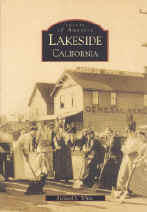 A newer published pictorial history unfolds in Images of America: Lakeside, California by Richard S. White. This publication chronicles the time from Lakeside's first building in 1886 through the 1950's. The images have been painstakingly restored by the author to display a clear view of Lakeside's history.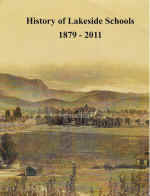 Recently published History of Lakeside Schools: 1979 – 2011 by Edna Kouns and Catherine Hansen and Allene Savage and edited by Richard S. White is now available. This gem will take you back to those "good ol' school days." The book is filled with rare and restored images showing how a small country town came to be what it is today.
All of these publications are available to view, and/or purchase, at the Lakeside Historical Society store located behind our Olde Community Church. Click here for a current list of books available about Lakeside, California.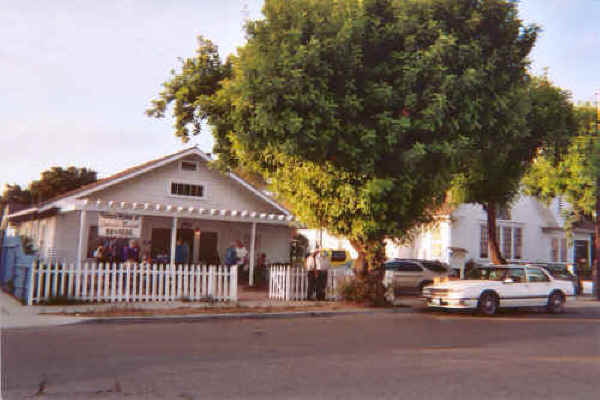 At the turn of the twentieth century, hundreds of enthusiastic people flocked to Lakeside to experience Lindo Lake, the Lakeside Inn and the weekend races. On the weekend of June 4 – 6, 2004, they came from all-over the county in cars, buses, motor homes, and even bicycles. One guest boasted of being from St. George, Utah! They came because now Lakeside's past can be enjoyed in pictures and memorabilia at the Lakeside Museum.
The opening of our museum was indeed a huge success. To our delight, people were waiting at the front door even before the museum was open, and some visitors arrived at the last moment before closing, anxious to see and learn about Lakeside's past. And many of the visitors lingered for more than an hour and everyone was thrilled to see our new museum.
We would like for you to enjoy the museum so please come by and visit . . . invite your family and neighbors.