Rental Information
Rent our rustic Olde Community Church hall for weddings, meetings, banquets, special occasions, and other private or community events. Hall rental includes use of the kitchen. A security deposit it required and includes a non-refundable cleaning fee.



For more than a century couples have been taking their vows in the
charming Olde Community Church of Lakeside.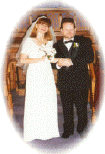 Just picture the one's in love being joined together within this historic landmark.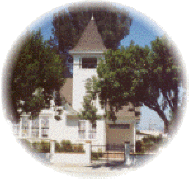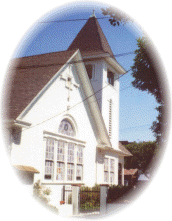 With its turn of the century atmosphere of wisteria and roses, white wood siding, bell tower, stained glass windows and hand carved 100+ year-old organ, the chapel and garden lends itself to small old fashioned or country weddings. It requires little or no additional decorations for your occasion.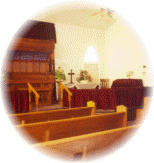 Our chapel will seat up to 80 guests on our wooden pews, with additional seating of 35 in the antechamber. The adjoining reception hall opens to seat another 40 on folding chairs.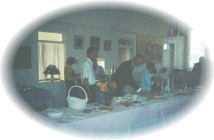 The reception hall includes tables, chairs, and a fully equipped kitchen. The hall will seat up to 80 guests.
Rental Rates
A deposit of 50% of contracted hours is required to hold the date. Deposit is refundable, less 10% if the event is cancelled 45 days prior to event. Deposit is non-refundable if event is canceled within 45 days of event. All fees are to be paid 14 day prior to event. All charges include rehearsal time. Please download and print the Lakeside Historical Society Wedding Hall Rental Agreement for current pricing. Once you have filled out the agreement, please mail it along with a check payable to LHS to:
Lakeside Historical Society
Attn. Hall Rental
9906 Maine Avenue
Lakeside CA 92040
Wedding Resources
We have names and telephone numbers of DJs and catering services available. Since these lists may not be current, if you have updated information, please contact us and let us know. We appreciate the assistance.
Ministers
Rev. Jack E. Nichols, PhD
P.O. Box 1663
Alpine, CA 91903
619-659-0441
Rev. J. A. "Joe" Jackson(Retired)
619-447-8940
Bob Walton
First Baptist Church Lakeside
12060 Woodside Avenue
Lakeside, CA
619-443-1400
Rev. Mary Auston
Non-Denominational
619-443-4066
Jay Buckingham, Pastor
Lakeside Wesleyan Church
9455 Los Coches Road
Lakeside, CA
619-443-1293
Photographers
Jim and Julie Hastings
619-440-8804
Ted Brockman
619-562-4980
Jose Puga
619-662-3820
Carriages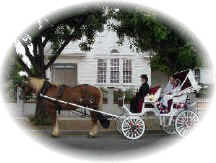 Carriages of San Diego 619-390-8255
Facility Rules & Use Information
When you rent the facility you will receive a copy of these rules to sign.
I. FACILITY: Located at 9906 Maine Avenue in Lakeside , California , this is the original historic site of the Lakeside Community Church. Built in 1886, it is now a non-sectarian country chapel and community meeting place. Owned and restored by the Lakeside Historical Society, this facility is dedicated to history preservation and the citizens of Lakeside .
The chapel and grounds are open to the public. With its turn of the century atmosphere of wisteria and roses, white wood siding, bell tower, stained glass windows and wood carved 100-year-old organ, the chapel and garden lends itself to small old fashioned or country weddings.
It requires little or no additional decorations for any occasion. The chapel will seat 6-8 on the 10 wood pews, with extra seating of approximately 35 on folding chairs in the antechamber, and 40 on folding chairs in the social hall. The social hall will handle table seating of 8 tables, with approximately 8 people per table.
II. WEDDING REHEARSAL: Optional, limited to 1 hour. Your rehearsal date and time must be prearranged, LHS schedule permitting.
III. ACCESS TO FACILITY: The Lakeside History Center; entrance on Parkside Avenue, behind the chapel, is open every Tuesday through Saturday from 10:00 AM to 2:00 PM. Contact the reservation chair person or your wedding hostess to arrange for rehearsal, decorations, set-up, photos, etc.
IV. PIANO AND ORGAN USE: The antique reed and bellows organ can only be played by one of the organists recommended by the Lakeside Historical Society. Organist fee for this is extra. Upright piano and electric organ available for use. Prior approval is required for other music requiring electricity.
V. PARKING: There is limited parking behind the chapel. Street parking is available for guests, or use of the parking lot 1 block East at the Lakeside Community Center .
VI. DECORATIONS: Please discuss your decorating plans in advance with your wedding hostess or reservation chairperson, and fill out the FACILITY USE FORM.
Absolutely NOTHING can be attached to the woodwork, plaster walls or ceilings–please, no tacks, nails, tape of any kind, etc. are allowed to insure preservation of this historical site.
The glass cases may not be moved, but may be covered with cloth and decorations
All decorations must be removed after the ceremony. All decorating and clean up is the responsibility of the event holder.
No confetti, glitter, rice, or bird seed.
Candles permitted for the ceremony at the altar only.If lights are used they must be pre-approved by your LHS event hostess or reservation chairperson. All decorating is to be done within the hours reserved. Please have all deliveries made during this time also.
VII. ALCOHOL AND ILLEGAL SUBSTANCES: No alcoholic beverages or illegal substances of any kind are allowed inside the chapel facility or the grounds. EXCEPTION: For weddings and reception, a champagne toast may be allowed with prior approval. No minors please.
VIII. GENERAL INFORMATION:
LHS requests a photo of your event for our archives.
No smoking allowed inside any part of this facility.
The facility should always be put in the same order as found unless instructed differently by your event hostess.
Telephone: A public pay phone available across the street at Payton Hardware store.The party renting the facility shall be responsible for all guests, employees, or caterers and their actions during the rental, set-up and clean-up times.
The $25 set-up/cleaning fee is for LHS staff setting up and taking down the tables and chairs, sweeping the patio and walkways, and any major cleaning. The wooden pews are not to be moved without prior arrangement.
It is the renter's responsibility for clean up, disposing of all food, decorations, plates, utensils, paper products, etc. Please supply enough large trash bags to handle your clean up. Trash bags are to be carried out to the back yard trash area, and not left inside of the building. Please be sure to bring something for spills and take care of it immediately.
On request the marquee sign at the entrance of the chapel may be removed on your wedding day.
IX. LIABILITY: It is agreed that the individuals signing this contract for event will be held responsible for repairs or replacement caused by any damage due to accident, theft or vandalism; and will be held responsible for the cost of any and all repairs caused by anyone participating in this event. The undersigned releases the Lakeside Historical Society from all liabilities arising out of any and all activities engaged in by the participants of this event.
The Lakeside History Center Diagram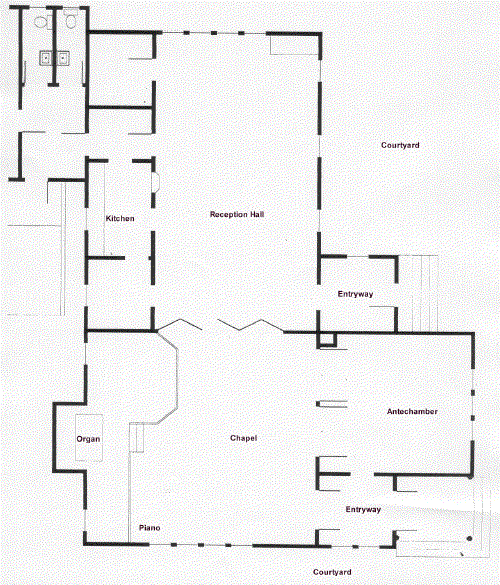 Please use our Contact Page to inquire about space availability, ask questions and reserve your date.