Bonnie Dollie Beadle was born during a stormy night on February 18, 1898. It took Dr. Mathewson two hours to drive from El Cajon. She died in 1965.
Wesley was born on Christmas day, 1893. He died on a Christmas Eve.
John Beadle's Corral and Stable was a busy place in the horse and buggy days. He also fixed pumps and windmills. He was active in civic affairs. He died in 1936, just as the American flag was being raised for Lakeside's Fourth of July Celebration. His wife, Belle, preceded him in 1930.
Wes attended Kelsey Jennings Business School, going by train each day after making freight deliveries by wagon to earn part of his schooling expenses. When World War I broke out, Wes responded by entering the Cavalry.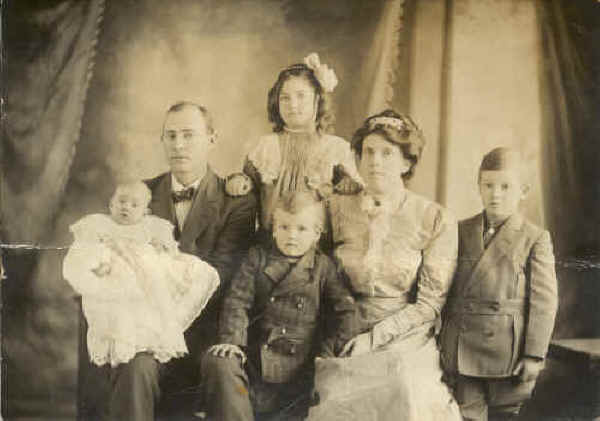 After the 1927 flood, Wesley helped rebuild the bridge which had washed out. When a caretaker was needed for Lindo Park, the Chamber of Commerce recommended. Wes, and his Rose Garden within the park was beautiful to see. January 1, 1951 he was honored by the County of San Diego for fifteen years of service to the community.
In 1937, Wesley and Florence Crain were married. Florence Mary Crain was born June 2, 1902, in Oklahoma. In 1906 the Crain family, Including Florence's 3 brothers and 2 sisters, moved to Twin Falls, Idaho. In 1918 they moved to San Diego where they managed the Tourist Hotel on National Avenue in National City. In 1920 Florence married Jack Emberly. They had one daughter, Rose. In 1925 she married Charles Sangster. Their son, Robert, is now a well-known building contractor in this area. Mr. Sangster died in 1929 and Florence cared for the 80 acre homestead on Mussey Grade, working at a restaurant in Ramona at the same time. By February 1937, she owned a cafe on Woodside, and that same year she married Wesley. For several years she cooked at Cecil's Lakeside Inn on Maine Avenue.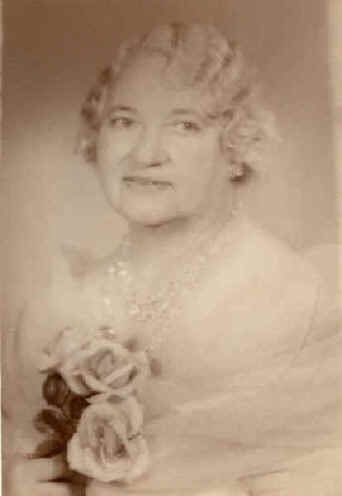 During World War II she worked in the experimental building at Consolidated. When the war was over, she became involved as a reporter and column writer for the Lakeside newspaper. She then moved from this role to the role of Historian, and on to work for the preservation of historic landmarks.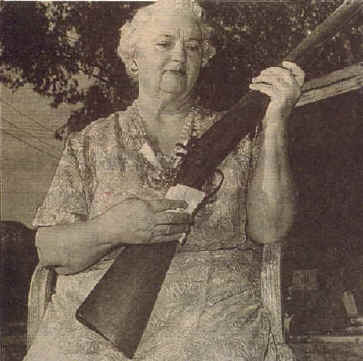 The Cork Elms along Woodside became her focal point, and from 1946 on, she made a supreme effort to save the trees. Sadly it failed. Again in 1965 she gained recognition when she led a citizen's group in preserving the Boathouse. She was honored as Lakeside's Woman of the Year. The Beadle place on Ashwood St. was the setting for Flossie's Museum. One of the buildings was formerly the La Mesa Train Depot, which has now been returned to La Mesa and restored. Wesley died at the home in which he was born. Florence died in 1973.
Wesley Beadle's Biography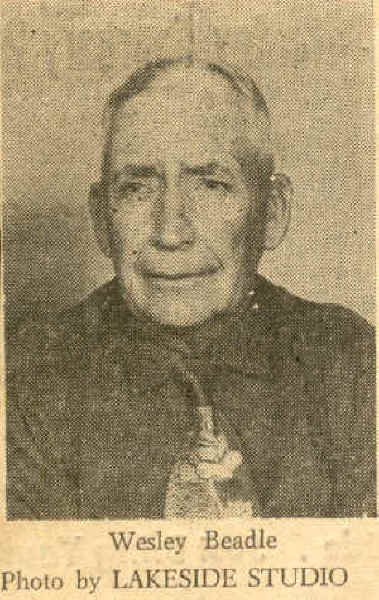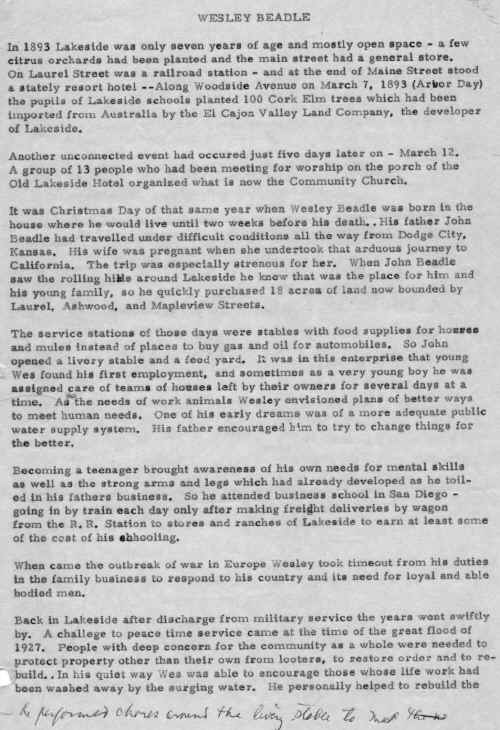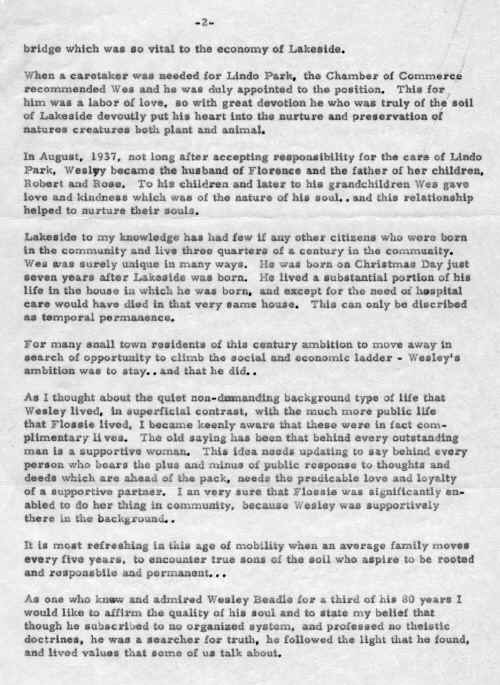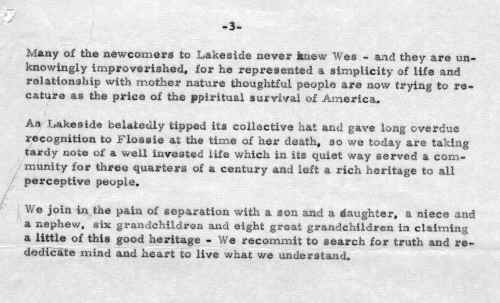 News Articles